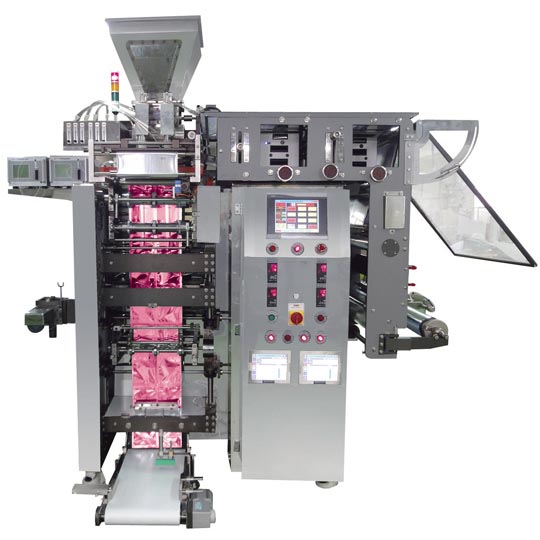 Feature
Result

- Residual oxygen: Check those that come below (0.1 to 2% setting) for packing
- The width and length of a product can be adjusted and the weight is adjusted

via touching.
- The length of a product is adjusted automatically. Likewise, the secondary

seal bar and cutting position can be adjusted automatically.
- The machine conducts the first and secondary sealing by cam, generating

less noise.
- A flashing light is turned on 2 minutes before the film is finished. When the

films are completely consumed, the machine will stop at its designated

position.
- Ink Jet Printer and Thermal Carbon Paper Printer can be installed for the
Sealing Device.

Specification
| | |
| --- | --- |
| Packing row | 2 Row (production option) |
| Capacity | 30~60 EA/min (on 2 row) |
| Packing size | W : 40~125 × L : 60~200mm (option feature) |
| Filling capacity | 4~150g (option feature) |
| Electric Power | 220/380V, 3P, 50/60Hz |
| Compressed Air | 5~7kgf/cm2 , 80ℓ/min |

Contents
Yeast, powder, fine granules, granules, other powder types, powdered milk, medical supplies and so on

Packing material
AL+PE, OPP+PE, NY+PE, Other Packing Papers Available for Heat Sealing