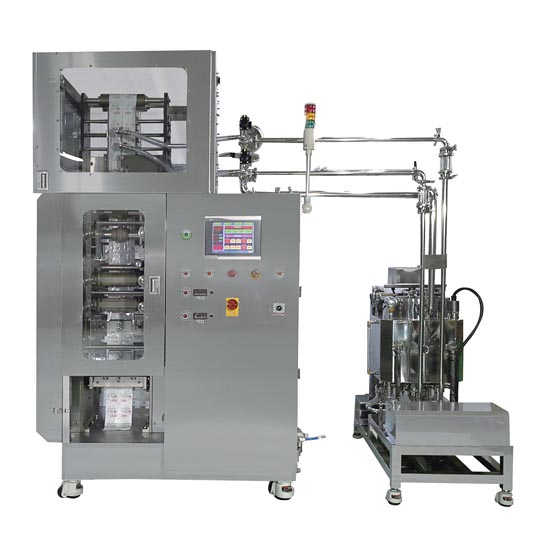 Feature
Result

- The machine is designed to be used in 3-side and 4-side.
- The length of products is adjusted automatically. For widths, simply replace films and the I-Mark will

automatically start tracking it.
- No air can be inserted in the process for its liquid sealing.
- A single machine allows packing of multiple types of products.
- The machine itself is covered with ST-2t for hygiene.
- The filling method adopts the SUS pump which makes it possible to add or reduce filling at any time during

operation.
- A flashing light is turned on 2 minutes before the film is finished. When the films are completely consumed,

the machine will stop at its designated position.

Specification
Packing row
2 Row (production option)
Capacity
300~800 EA/min
Packing size
W : 40~80 × L : 50~120mm (option)
Filling capacity
1~50g (option feature)
According to the filling quantity speed controls
Electric Power
220/380V, 3P, 50/60Hz
Compressed Air
5~7kgf/cm2, 80ℓ/min

Contents
Sauce, soy sauce, gravy, seasoned paste with condiments, other relevant liquids

Packing material
AL+PE, OPP+PE, NY+PE, Other Packing Papers Available for Heat Sealing