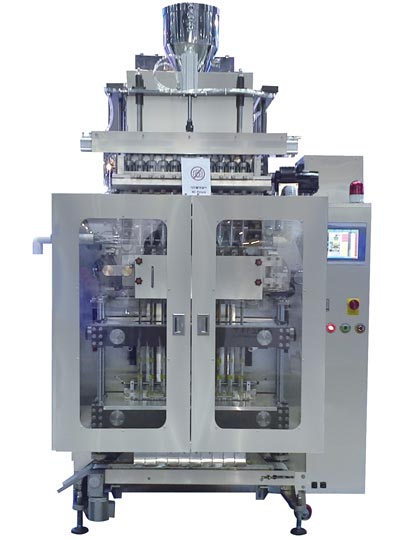 Feature
Result

- Packing length can be adjustable by touching of monitor which enables by independent Servo Motor.
- Highly precise I-Mark sensing and servo drive leads precise packing as well as less noise.
- This machine seals products twice consecutively for perfect sealing.
The product cutting is being done at the same time the machine doesthe secondary sealing.
- This machine rarely generates errors in production speed or packing sealing compared with a single

sealing.
- Alarm gives notice 2 minutes prior to the filme is finished.
When the film is completely consumed, the machine will stop at its designated position.
- The film board can be adjusted to left and right and the phototube can be calibrated to front and back.
- Adjusting handles are located in front of the machine for easy operating.
- A variety of safety devices installed in a machine and alert when any doors opened or hot-wire snapped

via buzzer sounds.

Specification
| | |
| --- | --- |
| Packing row | 10 Row |
| Capacity | 200~500 EA/min (on 10 row) |
| Date printer | Jet Printer & Others Date Printer Option |
| Packing size | W : 8~30 × L : 80~200mm (option feature) |
| Filling capacity | 1~30g (option feature) |
| Electric Power | 220/380V, 3P, 50/60Hz |
| Compressed Air | 5~7kgf/cm2 , 500ℓ/min |

Contents
Domestic tea, coffee, condiments, sugar, powdered tea, granules, medical supplies, powdered milk, supplements for
diet, health supplements and other relevant powdered products

Packing material
AL+PE, OPP+PE, NYLON+PE, Other Packing Papers Available for Heat Sealing