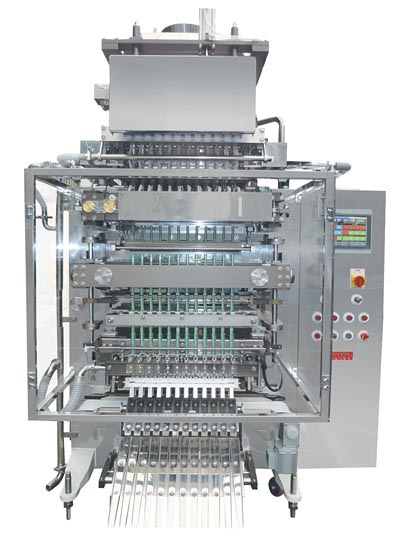 Feature
Result

- 45 degree cam type structure for center sealing makes less noise and better quality of sealing.
- Round cutting for each corner by cutting mold.
- Laser Printer can be installed for production date as well as security code.
- Openning notch canbe applied both top or side of the pack.
- Check empty packages to discharge them through a separate outlet, count and contain the qualified

products into a different box through a transfer device.
- Weighing can be adjustable by touching of moitor which enables by independent Servo Motor.

Specification
| | |
| --- | --- |
| Packing row | 12 Row |
| Capacity | 300~600 EA/min (on 12 row) |
| Packing size | W : 8~20 × L : 60~150mm (option feature) |
| Filling capacity | 1~20g (option feature) |
| Electric Power | 220/380V, 3P, 50/60Hz |
| Compressed Air | 5~7kgf/cm2 , 500ℓ/min |

Contents
Medicine, coffee, Condiments, sugar, powdered tea, granules, medical supplies, powdered milk, supplements for diet, health supplements and other relevant powdered products

Packing material
AL+PE, OPP+PE, NYLON+PE, Other Packing Papers Available for Heat Sealing